Super Smash Bros. is coming to the Switch. This is not a drill.
In typical Nintendo fashion, the juiciest info was left right until the end, beyond news of ports both expected and shocking. Teased with an Inkling turfwar, the squid kids stare on in bewildered horror as familiar figures flicker in the distance, one of them definitely an updated, Breath of the Wild Link. With no info as to when the new Smash. drops other than it being this year, we've all been left reeling and desperate for more.
With the the towering, flaming elephant in the room addressed, we can take a look at what else dropped during the half-hour of Ninty goodness. But Smash Bros. was definitely the main story here.
Starting with the 3DS, the original Luigi's Mansion that spawned a 3DS sequel returns some time this year. The original saw Luigi exploring a winding, ghoul-infested mansion, boasting numerous puzzles, a treasury of secrets and boss battles galore. With arguably more…spirit than its sequel, it's exciting to see the Gamecube classic return with some extra additions, like a new boss-rush mode and ghost gallery.
Following the recent release of the 3DS remake Mario & Luigi: Superstar Saga + Bowser's Minions, another Mario RPG get the same graphical overhaul in Mario & Luigi: Bowser's Inside Story + Bowser Jr's Journey. Another fantastic RPG set in the belly of the titular beast himself, with a new campaign focusing on what happened behind the scenes exclusive to this addition, coming in 2019.
WarioWare returns after five years with WarioWare Gold, a hefty bumper-pack of fiendish microgames both old and new, featuring a bizarre menagerie of touch, sound and motion based mechanics, winging its way to 3DS systems on July 27th.
The simply inspired spin-off no one knew we absolutely needed Detective Pikachu launches March 23rd alongside an extra large amiibo, more than double the size of a regular amiibo! It'll unlock Pika Prompts, little cutscenes present throughout the puzzle-solving caper.
To top off titles on the 3DS front, a sequel few were expecting. Dillon's Dead Heat Breakers expands on Dillon's Rolling Western, one of the first games to grace the 3DS eshop.  As a tower-defense game featuring the titular cowboy armadillo, the sequel boasts expanded gameplay and Mii functionality, your tribe of avatars joining Dillon as a backup firing squad as he defends against the ravenous Grocks- very hungry boulders. Those who missed out on the original may want to pay attention when the game launches May 25th, because if it's anything like Rolling Western, this Mad Max-ish sequel is one to watch.
Moving onto the Switch now comes a flurry of ports. We've got the Wii U's Captain Toad: Treasure Tracker complete with extra Mario Odyssey levels coming July 13th as well as Hyrule Warriors: Definitive Edition launching May 18th. There's also an eventual, anticipated port of Indie mega-hit Undertale, Little Nightmares: Complete Edition also coming May 18th as well as South Park: The Fracture But Whole April 24th. Finally, Okami HD will also descend upon the Switch library this Summer, with both touch and motion brush controls.
A port that nobody saw coming however was Crash Bandicoot N. Sane Trilogy, believe it or not, coming July 10th on the Switch. A Nintendo first that's wumping incredible. Claws and wings crossed for a Spyro port too eh?
By now we're all aware that the Dark Souls port is on it's way, May 25th to be exact, but none of us saw this frankly stunning Solaire of Astora amiibo coming.
I mean look at it.
Bestowing the "praise the sun" emote and seemingly little else, this little guy is clearly an essential addition to any amiibo collector's horde.
Next up comes an update on Kirby Star Allies available March 16th. Beyond the ability to befriend and enlist enemies onto your side via pink puffball persuasion, Dream Friends will be available too, meaning King Dedede, Meta Knight and Bandana Waddle Dee will also be playable. Long term Kirby fans can also look forward to more Dream Friends through a free update on March 28th, including the likes of Rick, Kine and Coo alongside the amorphous Gooey and villain of Dreamland Marx, who in no way is looking to seize the means of production.
Mario Tennis Aces promises to be the most refined sports spin-off the Mushroom Kingdom has ever seen. Covering a wide spectrum of mechanics, players are pushed to devise nanosecond strategies on the fly, with the new Zone Shot, a reticle summoning serve capable of breaking an opponents racket for a surefire point, and Zone Speed, reducing the game to a crawl to swiftly return any far-off shot. Using parts of an Energy Gauge allow you to perform these stunts, but filling the guage up entirely unleashes an all-powerful Special Shot unique to the character that's a struggle to return. There's an Adventure Mode with unique challenges, simple rules to play a more traditional game and online tournaments with exclusive playable characters and outfits will be released steadily upon the games launch June 22nd. With all these features PLUS a tennis loving Chain Chomp following his dreams in the roster, it's hard to deny the charms of Mario Tennis Aces. With a free online pre-launch tournament imminent as well, now is a brilliant time to be a Mario sports fan.
Now for something completely different. Sushi Striker: The Way of Sushido tells the tale of a land where sushi is forbidden, where war is waged via conveyor belt and nori roll. By wolfing down plates of the same colour, players can build a stack to launch at an opponent, eventually calling upon a Sushi Sprite to deliver a special attack. It's kooky, it's insane, but the gameplay is far deeper than it's chibi cute stylings might suggest. Available on the 3DS the same day, players can look forward to delicious online death matches June 8th.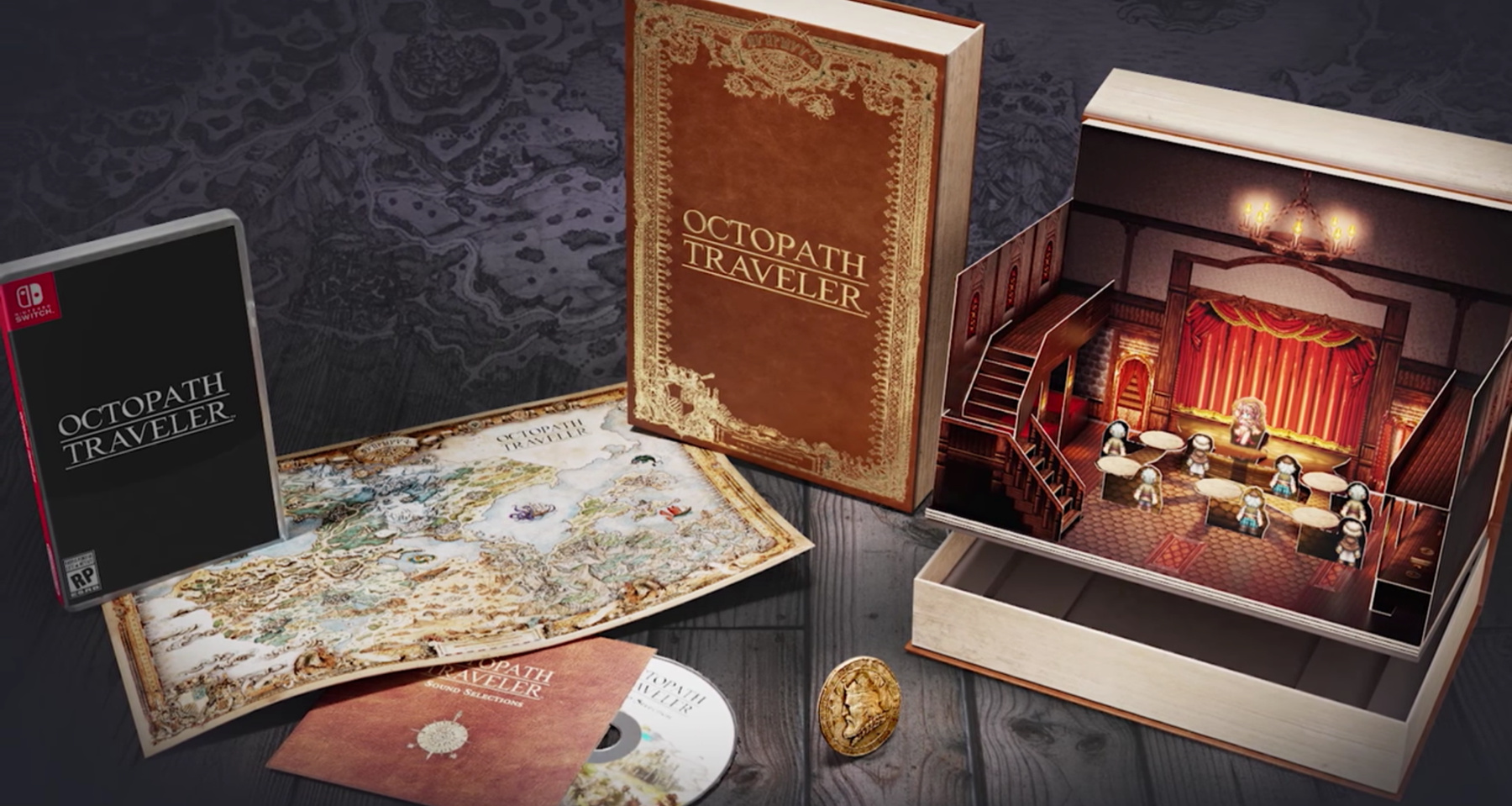 Octopath Traveller finally gets a release date on July 13th, with both a standard and special edition that boasts a map, soundtrack, collector's coin and pop-up book. We get a look at new characters and classes as well as mechanics, fans of the Bravely Default series will be familiar with its hybrid job mechanics.
I feel sorry for anyone who isn't familiar with Travis Touchdown. A beam-katana wielding assassin, "Moe" anime aficionado and all around colossal prick, his absence was felt by all who knew him. Now he's back and worse than ever in Travis Strikes Again: No More Heroes, a spin-off that sees Travis trapped in a game console, fighting through seven different game modes to reach an insane boss at the end. This was what cult-classic No More Heroes was known for, typical Grasshopper, off-the-wall humour and ludicrous boss fights. An alcoholic, homicidal barbie girl? Check. A samurai schoolgirl? Check. The ghost of a child burned alive now a homicidal hockey mascot? I almost wish I was making this up. With a re-imagined combat system, co-op mode and new story line, both fans and newbies alike are gonna want another slice of Travis.
Finally, Splatoon 2 will see a humongous update late April, with over 300 new clothing items, extra stages, an elusive Rank X for pro players and Marie, appearing in Octo Canyon after its completion. But more importantly, a paid DLC campaign will be coming this Summer entitled the Octo Expansion, which sees you play as an Octo styled Inkling. With no memories, players will work their way through over 80 stages in a dystopian, grimey, underground test facility that'll deepen the lore of Inkopolis, with the Octoling playable after the campaign's completion. Buying the expansion pass now rewards eager players with bonus Octo gear clothing, perfect for any turf war.
With port upon port available to take with you on the go, some loving remakes and reboots as well as a titillating Smash Bros. teaser, this Direct couldn't have given us more. But just what exactly is this new Smash? A simple port with some nice additions, or perhaps a complete overhaul? Only time will tell!
Facebook Comments