Beauty and the Beast
Director: Bill Condon
Featuring: Emma Watson, Dan Stevens, Luke Evans, Kevin Kline, Josh Gad, Ewan McGregor, Stanley Tucci, Audra McDonald, Gugu Mbatha-Raw, Ian McKellen & Emma Thompson.
Released: March 17th 2017
I want adventure in the great wide somewhere
– Belle
By the time the original Disney animated classic Beauty and the Beast hit the screens in late 1991, months of anticipation and excitement had built as fans eagerly awaited the next movie to join what may now be known as the "renaissance era" of Disney. After the hype created after Clements and Musker's widely successful The Little Mermaid, Disney was keen to continue capitalising on the success of it's musical animated movies, and re-ignited a project which they had been attempting to bring to the screens for almost 40 years – the French fairy-tale of a young woman who falls in love with a cursed Prince. By cursed, for those who have been hidden under a rock for the last 20-odd years, we mean he's literally a horned beast.
The movie went on to win an accolade of awards spanning from Golden Globes to Grammy's and Academy Awards, and is widely recognised as one of the most iconic movies in Disney's history, creating a legacy which, much like with many of the Princess movies, spans across to the children of today.
It's suffice to say, then, there's a LOT riding on the live-action reboot of the animated movie. Whilst 2015's Cinderella certainly had a great deal of pressure to re-create the magic and iconic nature of Walt Disney's favourite animated classic, it's undeniable that the original Cinderella was much less dynamic in it's storytelling and characterisation. Whilst both are fairy tales, Beauty and the Beast deals with many difficult and powerful themes – home, family, greed, image, change (…beastiality….?) and growth to name a few.
Belle herself is a key character in Disney's journey towards representing women, too, so there's a definite need to continue that growth moving forward with the live-action movie. Whilst many weren't overjoyed at the casting of Emma Watson as Belle, it makes sense in a lot of ways – she's known internationally as a women's rights advocate, has a history of playing intelligent and powerful women and is considered to be a positive role model for children worldwide.
But the question remains… can she sing?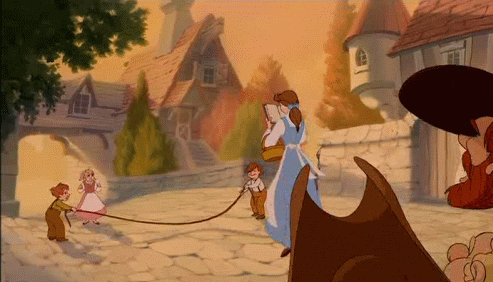 With every new trailer release, Disney has teased us a bit more with suggestions of Belle's voice, the general aesthetic of the movie and how (if at all) it replicates the magic and beauty of the original. Once more, with the second trailer release, they've not disappointed in taunting fans with a shot-by-shot live action rendition of footage which was released in 1991. Crafty devils.
That being said, nothing new has been revealed in terms of plot adaptations, and they've stuck rigidly to the trend of revealing only as much as they have to in order to maintain suspense. Whilst this is an obviously clever marketing technique, it's certainly frustrating to know so little about added content – with an expected extra 40 minutes of running time, there's bound to be added content besides the career changes for Belle which were disclosed by Emma Watson in earlier interviews.
Regardless of these minor annoyances, the trailer certainly provides a peek into what's to come – vibrant backdrops, lots of CGI and a really, really cute teacup.
Facebook Comments